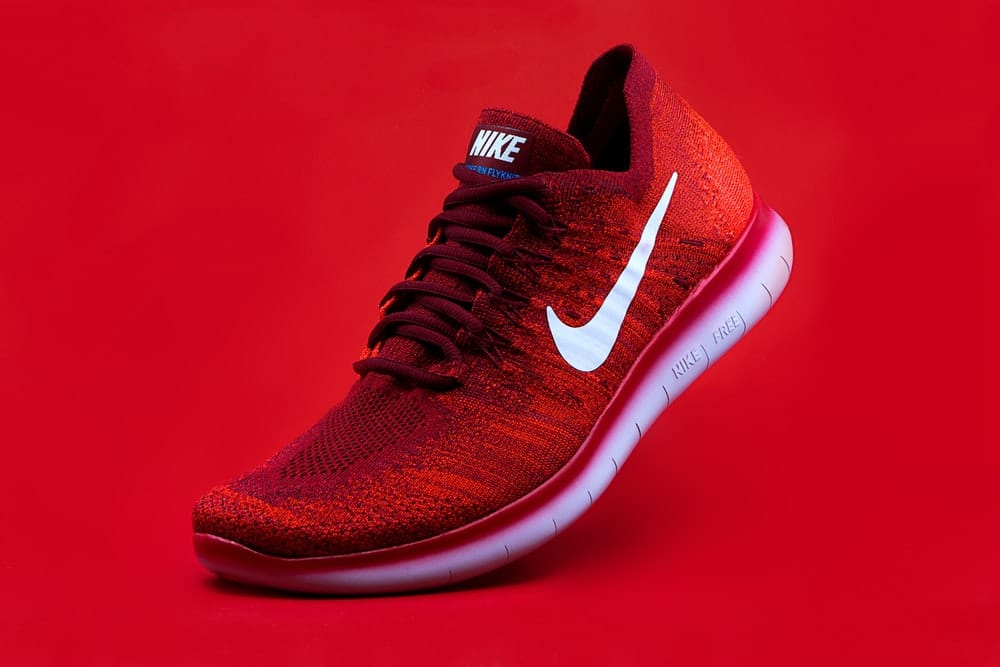 10 Best Sneaker Proxies for Coping Shoe Sites in February 2023
Nike, Adidas, Yeezy- we have all heard of these brand names million times and their limited edition collection of sneakers.
The craze for these sneakers is real.
And due to this craze, sometimes it becomes impossible to grab a pair for yourself because they sell out too quickly.
And if you're a reseller looking to buy them in bulk for your business, then it's rarely possible because, to cop even one pair, you'd have to be pretty fast.
And even after that, the chances remain low.
This is where proxies come to your rescue. With the help of Best Sneaker Proxies, you wouldn't need to worry about this issue.
Whether you want to grab one pair or 10, proxies can help you be at the top of the race and prevent your IP from getting banned by the website.
In today's article, we will talk about some of the best places to buy sneakers before they sell out.
Let's get started.
Top 10 Sneaker Proxy Sites for 2022
Smartproxy
Smartproxy is one of the very few websites that focuses mainly on targeting shoe sites.
Whether it be Nike or Supreme or any other shoe site, you can buy one or dozens of pairs at once at only one price.
Usually, you'd have to buy separate proxies for each purchase attempt. But with Smartproxy, there no limits in resources.
You get unlimited threads and resources and you can buy sneakers as many times as you want in all their pricing plans.


Smartproxy works with all major sneaker bots. Some well-known sneaker bots that work are Supreme Bot, Better Nike Bot and AIO bots.
These proxies target shoe locations by choosing servers near your target which helps you cop shoes faster than others.


Key Features:
Optimized shoe proxies
Mobile compatible sneaker proxies
24/7 sneaker proxy support
3-day money-back guarantee
Unblockable proxies
Add items to cast 2 times faster than others
190+ locations and 40 million IPs
Pricing plans: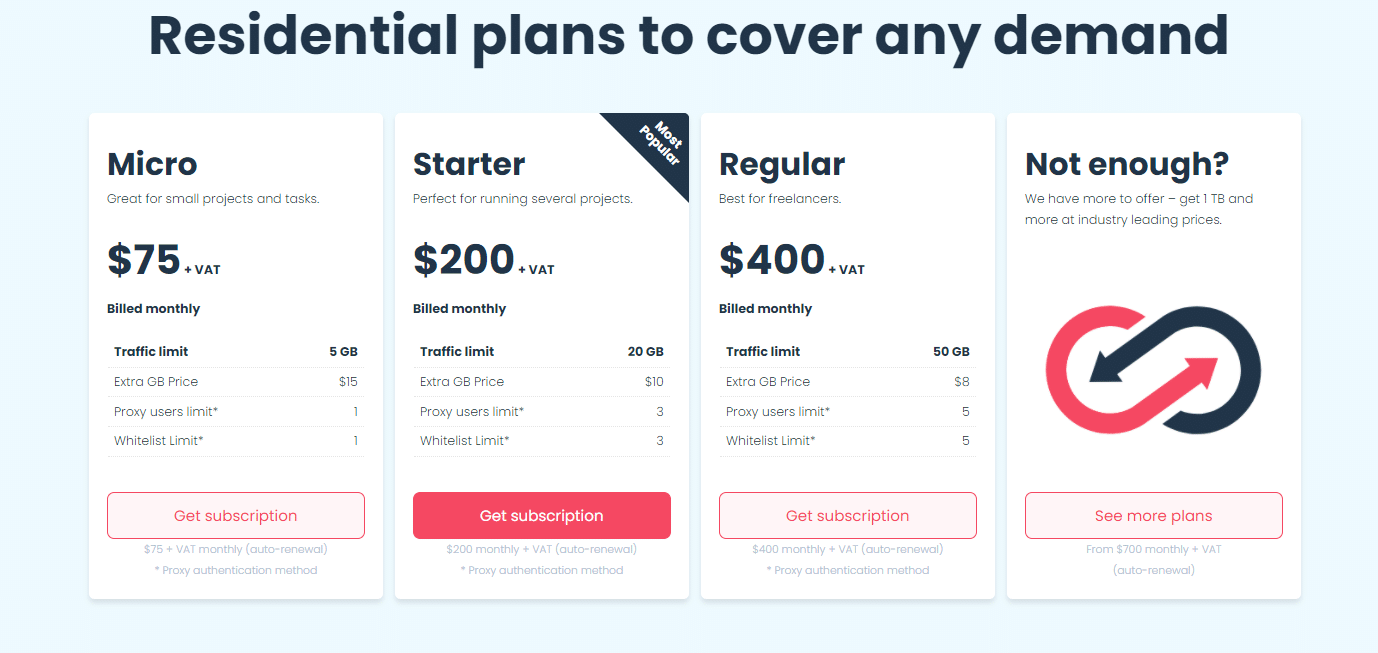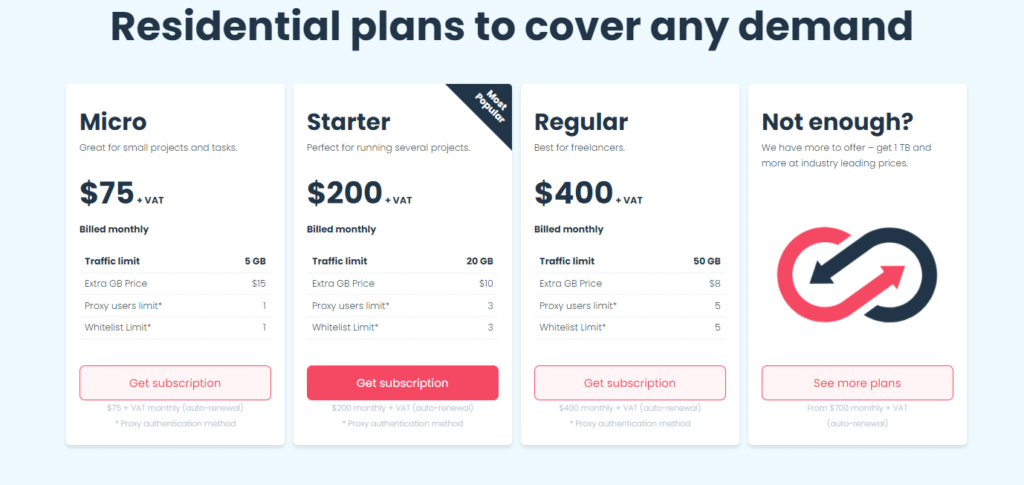 Residential plans:
Micro- $75/month
Starter- $200/month
Regular- $400/month
Datacentre plans:
Clever- $50/month
Smart- $100/month
Wise- $200/month
Genius- $500/month
My Private Proxy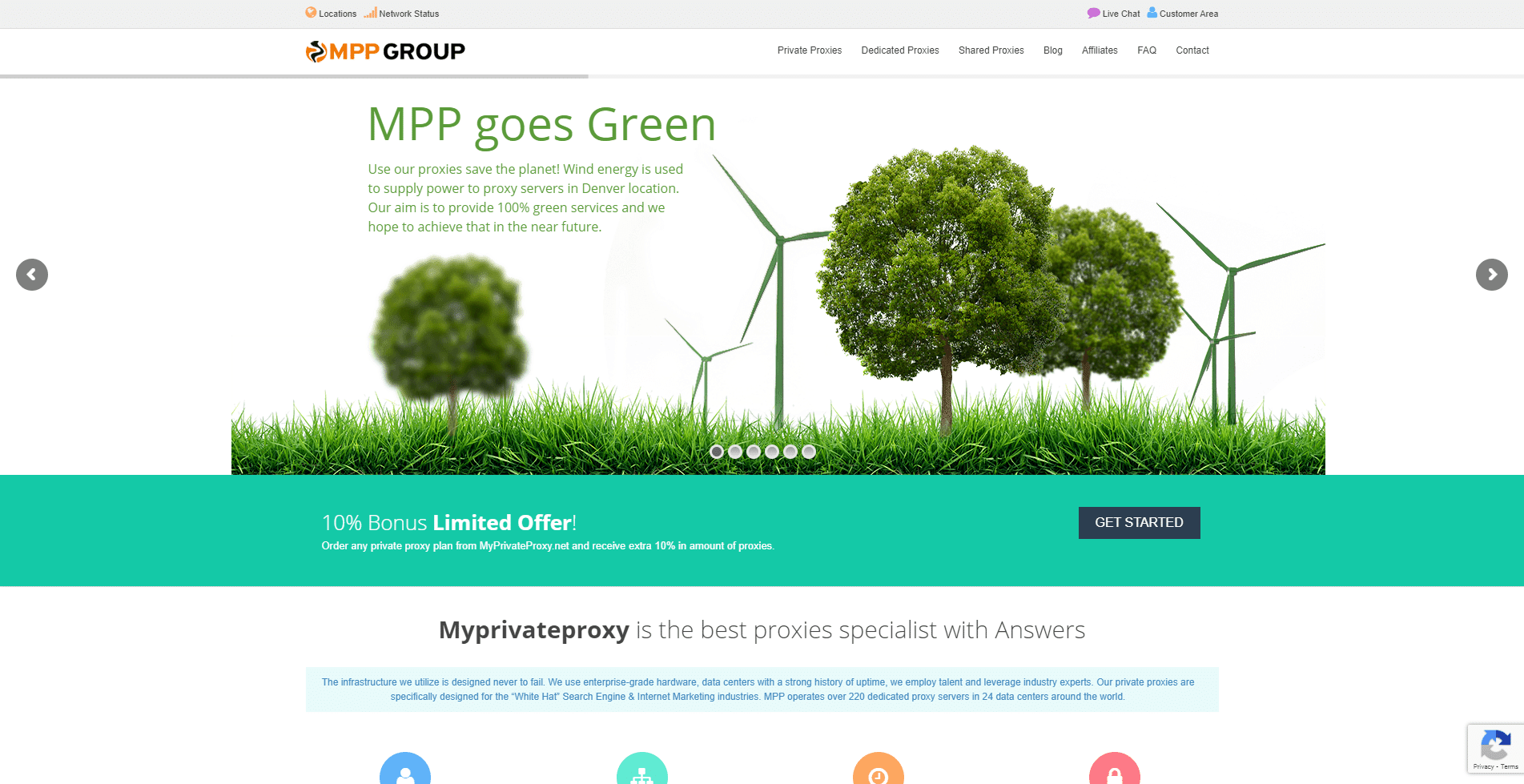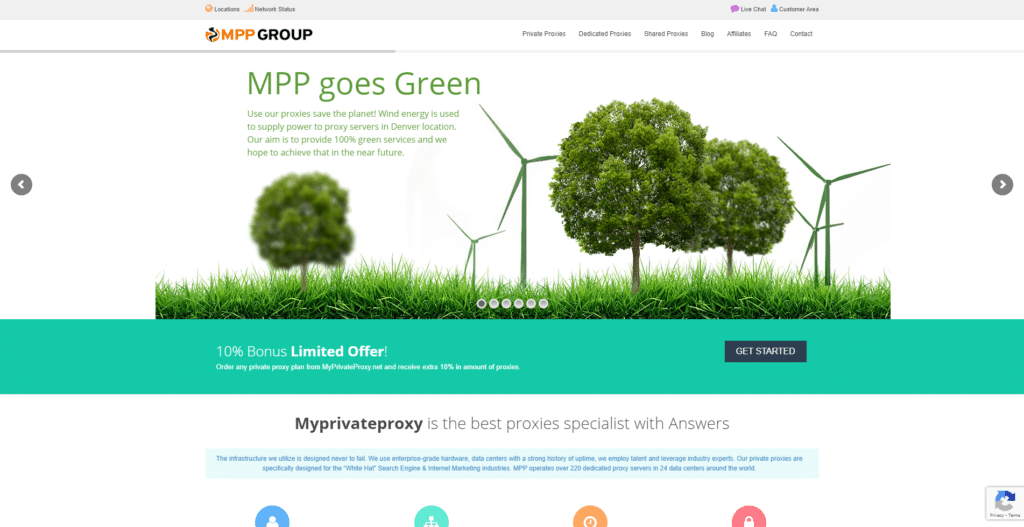 My Private Proxy is a paid proxy service with a wide network, spread across the USA and Europe.
They provide private proxies from multiple data centers, 16 major American cities and 8 European locations.
All of their servers are connected to 1Gb/s internet connections.


This service provides proxies specially meant for buying sneakers. These proxies are checked and guaranteed to work upon purchase.
Moreover, they have an easy to use control panel which enables easy management of proxies, authenticated IPs and username/password.
My Private Proxy guarantees an uptime of 99% and keeps your identity anonymous on the Internet by filtering your real IP and replacing it with its own.
Key Features:
Dedicated servers for speed and performance
24/7 customer support via live chat, email or support ticket
No limit on bandwidth
Instant service activation
3-days money-back guarantee
Pricing plans:
MMP Sneakers 20- $65/month
MMP Sneakers 50- $128/month
MMP Sneakers 100- $242/month
MMP Sneakers 250- $520/month
Iced Out Proxies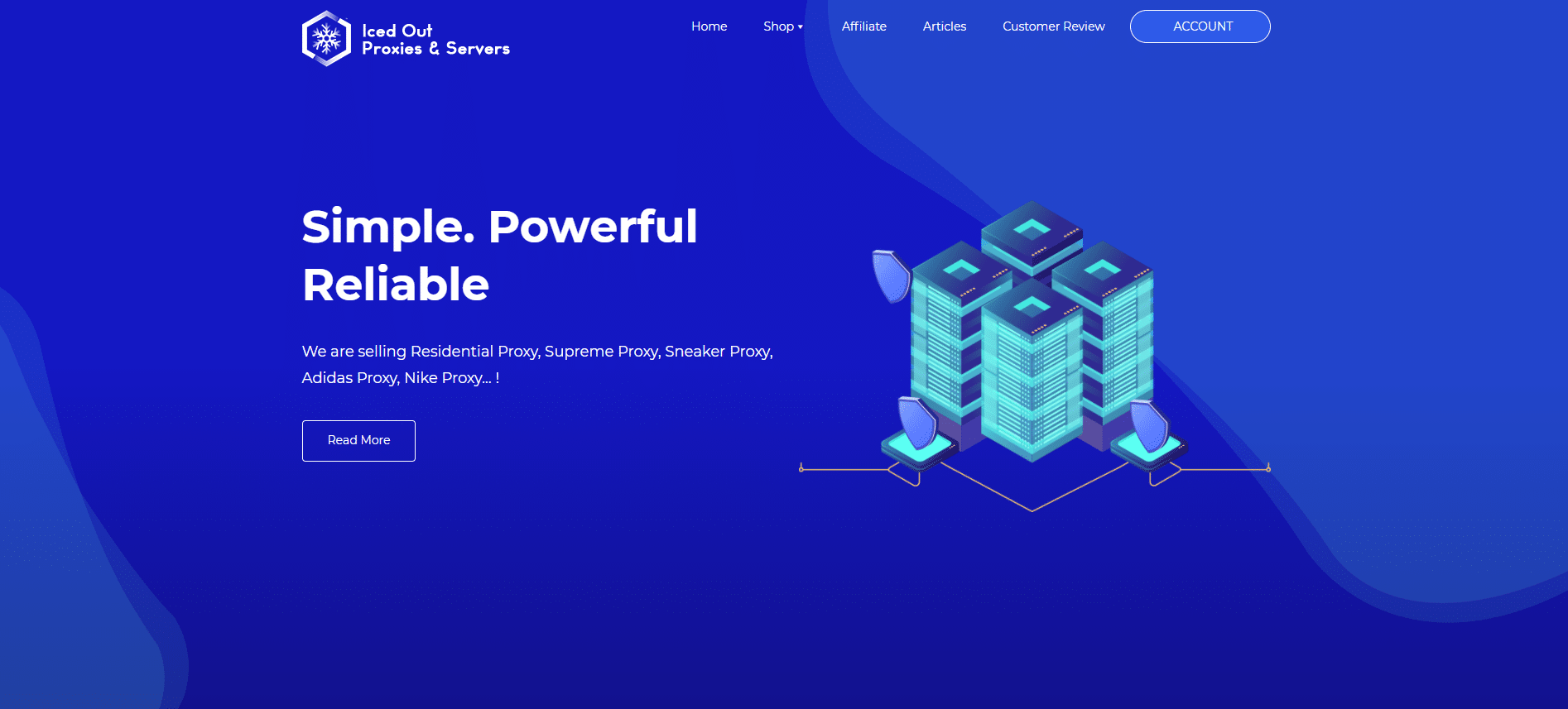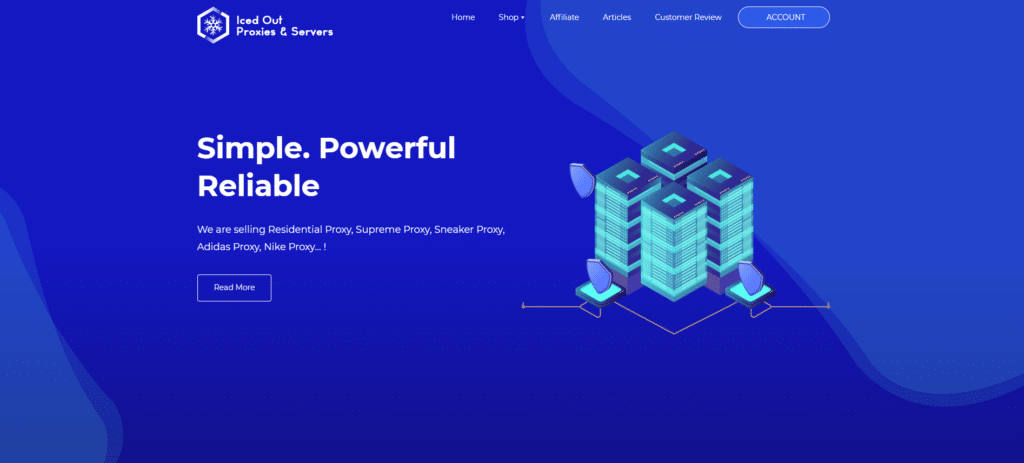 IcedOut Proxies provides sneaker proxies in various plans and packages.
It has packages for Nike, Supreme and Adidas separate as well in case you want to buy from those websites particularly.
It has a network of 110,000 proxies and 500 servers for Chicago, Virginia and New York.
Before sending their proxies out to their customers, they test everyone themselves. Thus you can be guaranteed that these proxies will work on whichever websites you use them.
IcedOut datacentres are equipped with servers of high quality. This guarantees extremely fast and top-notch performance.
These proxies can reach high speeds in under 100 milliseconds (1 second) to help you stay at the top of the game.
Key Features:
Thousands of IPv4 addresses
24/7 customer support
Flexible and customisable plans
Unlimited bandwidth
Affordable rates
Optimized for sneakers
Pricing plans:
Not all plans of IcedOut Proxies guarantee to work for sneaker websites. Only the plans under "Monthly IcedOut 10 Gbps servers" guarantee to work great during releases.
Here are the plans and their respective prices.
Basic- $60/month
Iced Out- $85/month
Iced Out Special- $125/month
Mega- $160/month
Ultimate- $190/month
Overkill- $210/month
Bright Data
Formerly known as Luminati Networks, Bright Data has the largest network of proxies in the world as of this moment.
It has over 770,000 IPs across many countries around the globe namely the USA, Great Britain, Germany, Australia etc.
Bright Data does not have any special packages for sneaker proxies nor do they mention anything about copping sneakers on their website.
However, their pool of millions of IPs around the world is perfect for this purpose.
Bright Data is also known for its 100% uptime, lower ban rates and high-quality performance.
Key features:
Multiple IP types
P2P network
3000+ subnets
Private IPs for targeting specific websites
7-day free trial
24/7 customer support
Pricing plans:
Pay-as-you-go : $0.65/IP and $0.010/GB
Monthly:
Starter- $500/month
Production- $1000/month
Plus- $3400/month
Enterprise- $30,000/month
Yearly:
Starter- $5,400/year
Production- $10,800/year
Plus- $36,720/year
Enterprise- $324,00/year
Storm Proxies
On Stormproxies, you can get instant access to residential rotating proxies optimized for sneaker websites, be it Supreme, Nike, Yeezy, Adidas or others.
The feature that makes this site stand out among others in the market is its affordable price and good features.
At a reasonable price, Storm Proxies provide decently good features. It has a network of 70,000 IPs which include static and rotating IPs from both datacentres and residential devices.
You can choose from either a US or EU based IP address.
Key Features:
High performance
Multi-threaded tools
24/7 customer support
Instant delivery of proxies
Unlimited bandwidth
2-hours money-back guarantee
Pricing plans:
20 ports sneaker proxies- $160/month
50 ports sneaker proxies- $300/month
100 ports sneaker proxies- $550/month
200 ports sneaker proxies- $900/month
GeoSurf
GeoSurf's been in the market for many years now and some of you might already know about it. GeoSurf offers two types of IPs- status IPs and residential IPs.
They have a pool of 2.5 million IPs in every country of the world and around 1700+ cities.
Their service is based on a P2P network therefore the IP addresses they provide are from real houses rather than general ones, which are easily detected by websites.
Their inbuilt IP rotation is tailor-made for good performance at enterprise levels.
Key Features:
Simple and quick integration
Undetectable proxy servers and IPs
Fast responsive customer support
99% uptime
130 geo-locations
Dashboard to monitor your data usage
Coder friendly
Pricing plans:
Starter- $450/month
Professional- $900/month
Plus- $2000/month
Enterprise- Special plan for which you have to contact them
SSL Private Proxy
SSL Private Proxy is very suitable for sneaker shopping. They have 40+ locations, most of which are based in the USA.
SSL Private Proxy offers highly anonymous IPs, username/password authentication and support from HTTP and HTTPS connections.
Key features:
25 exclusive proxies for shopping and sneakers
No setup fee
Specialized packages for specific purposes
Many locations
3-days refund policy
Instant delivery of proxies
Price: $90/month
Microleaves aka Shifter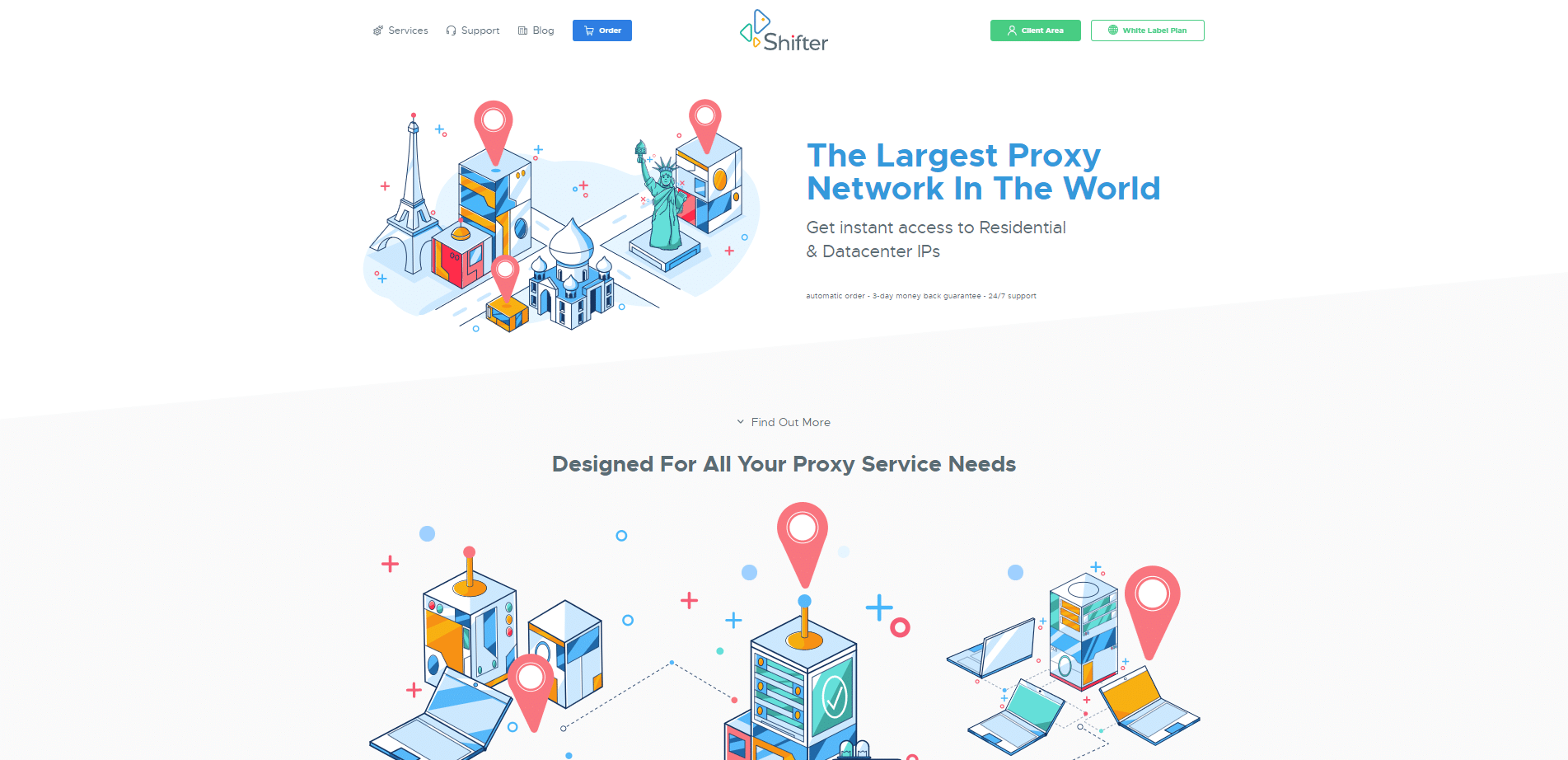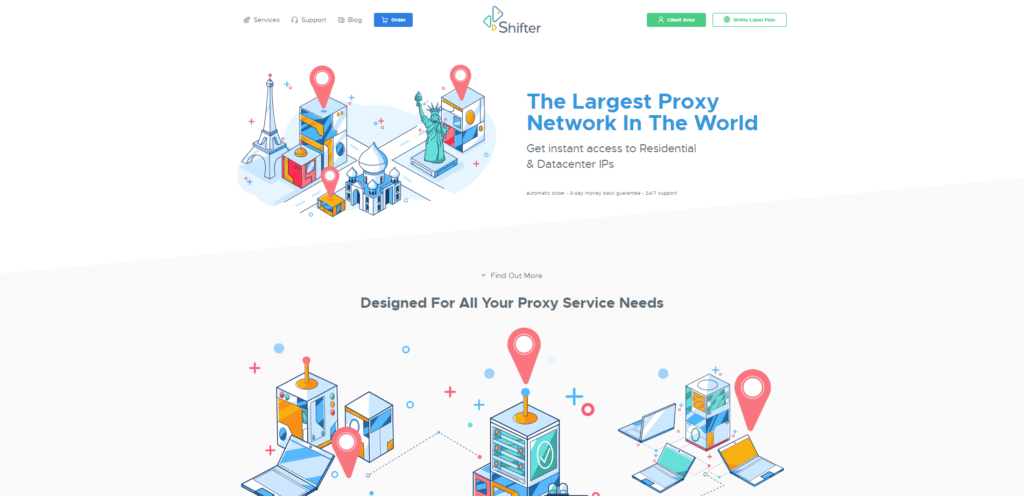 Microleaves changed to Shifter is UK based company that's been in the market since 2012. It has over 26 million IPs and keeps changing its proxy every 10 minutes.
This feature makes the site perfect for sneakers because they often put a limit per IP address.
Thanks to Microleaves aka shifter' P2P network, you can rid yourself of the worry of getting blocked.
Besides that, it offers unlimited bandwidth with no additional charge.
Key features:
HTTP, HTTPS, SOCKS 4 and 5 support
3-days money-back guarantee
Instant delivery of proxies
99.99% guaranteed uptime
24/7 customer support
Pricing plans:
Special back connect proxies- The price depends on the number of proxies you buy. The minimum number of proxies is 10 which costs $259.99 and the maximum number is 5,000 which costs $99,999.98.
Basic back connect proxies- The pricing here is similar, with a minimum of 10 proxies at $124.99 and a maximum of 5,000 at $99,999.98.
Oxylabs
With Oxylabs' sneaker residential proxies, you don't need to worry about not getting sneakers again.
These proxies are compatible with every sneaker bot and have flexible rotation options.
Oxylabs has a network of over 70 million residential IPs which are ideal for sneaker copping. This network covers all the countries in the world and even all the cities.
Now that's something you don't find in many proxy services!
Key features:
Country, city and ASN filtering
24/7 live customer support
A success rate of 99.2%
One of the fastest in the market
Low IP ban rates
Pricing plans:
Starter- $300/month
Business- $600/month
Corporate- $900/month
Enterprise- $5000/month
NetNut
NetNut provides IP addresses directly from ISPs and not P2P. It provides over 10 million IP addresses from around the globe.
Being relatively new in the market, this is an impressive amount of IPs.
As per NetNut claims, you can use their proxies on any website including sneakers. Their company optimizes proxy pools based on your location to provide you with maximum success rates.
NetNut servers are spread around the world and cover about 50 location in the US, some European countries and some Asian locations.


Key features:
Rotating per each browser session
24/7 IP availability
Dedicated private pools
Dashboard to monitor your data
7-day free trial
Pricing plans:
Starter- $300/month
Advanced- $625/month
Production- $800/month
Semi-Pro- $625/month
Professional- $2500/month
Master- $4000/month
Which proxies are better- Residential or Datacentre?
For sneakers, residential proxies are usually recommended. This is because datacenter IPs are often identified by websites due to their suspicious activity.
The suspicious activity being that datacentre IPs are previously used IPs.
But that's not the case in residential proxies. Residential proxies are proxies of real houses where real people live.
These have not been used before and thus do not have any history of suspicious activity.
Therefore, they do not always get caught by the websites.
Summary of the Best Sneaker Proxies in 2022
The craze for popular brands isn't dying anytime soon.
Everyone wants the latest Yeezy shoe or the limited edition Adidas sneaker but only a few can get their hands on them.
Buying in bulk becomes impossible in these situations.
With sneaker bots and fast proxies, your chances of copping sneakers increase a lot.
So if you're a fan of these brands, make sure you order these proxies one night before the release.
We hope you liked our article.
Do leave your valuable feedback and let us know in the comment section if you were able to buy sneakers using one of the proxies we listed in our article!
Best Sneaker Proxies FAQ
Are sneaker proxies illegal?
Sneaker proxies are not illegal. They just provide sneaker bot operators with different IP addresses to secure their network and be anonymous on the Internet, which is not illegal. 
Are sneaker proxies and sneaker bots the same thing?
No. Sneaker bots are automated tools that help you cop shoes when they release and sneaker proxies are add-ons that enhance a bot's speed and performance.
Is it possible to buy sneakers in bulk without a proxy service?
Well, technically yes. There are loads of websites to buy shoes in bulk.
But for popular brands with limited edition stock, it's quite impossible because millions of people sit in front of their computers waiting to grab a pair.
What happens when you don't use proxies with your sneaker bot?
To stop people from buying in bulk, sneaker brands limit the number of purchases coming from a single IP address.
If you don't use proxies, you wouldn't be able to buy more than their limit which is usually not more than 5-10 pairs per IP address.

Shubham's reputation as a Proxy & Coupon Expert stems from years of hands-on experience and deep industry knowledge. His insights into proxies and online discounts are both authoritative and reliable, making him a trusted resource in these specialized fields. Committed to accuracy and efficiency, Shubham's work reflects not only his expertise but his dedication to providing value to his audience.