Best SOCKS5 Proxy services of February 2023 – That Actually Work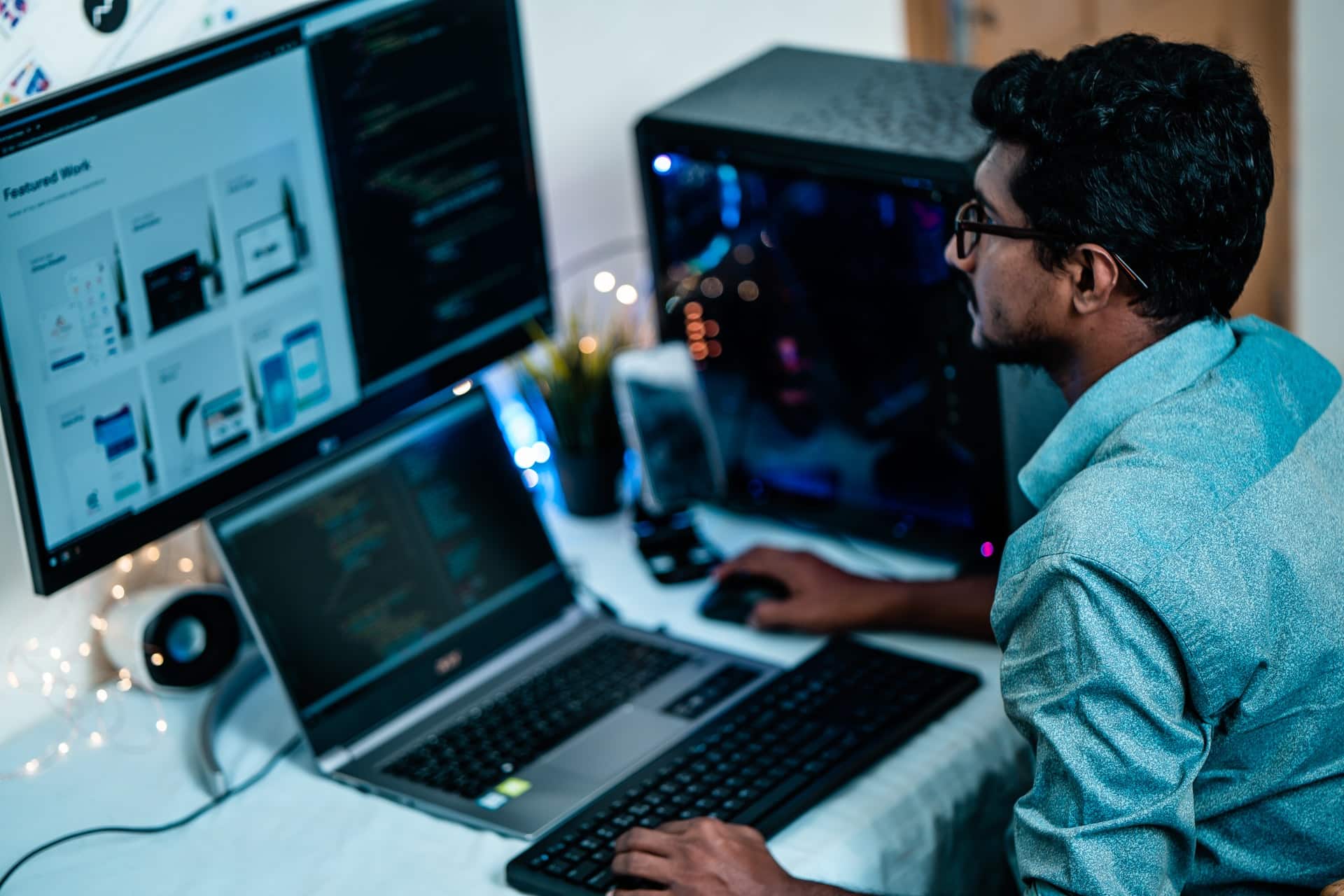 Planning to use a SOCKS5 proxy? But not sure which one to get and have a mind-boggling question about it?
Well, we have got you covered in this article.
A SOCKS5 proxy, like a VPN, is a promising strategy to get through internet censorship. Because it may allow location spoofing at quicker rates than just a VPN, some VPN companies incorporate a SOCKS5 proxy in their offering.
We've selected the major VPNs with a SOCKS5 proxy in this article. These SOCKS5 Proxy servers will gain a comprehensive premium VPN as well as a SOCKS5 proxy which you may use at any time.
List of Top 5 Best SOCKS5 Proxy services
Bright Data(formerly known as Luminati)
With Luminati's vast network, you may collect web data without worrying about bots being banned or blacklisted. In nearly every place on the planet, Luminati has over 35 million resident peer-to-peer IP addresses. It has data center proxies, permanent residential, rotating residential, and mobile proxy servers in its network. You can select from any of them.
This is ideal if your company needs a large number of SOCKS5 proxies. You have the choice of using shared IP addresses, which may be used by many people, or exclusive IP addresses, which are reserved exclusively for you. Each proxy allows for an infinite number of concurrent sessions.
The API, proxy manager, and Chrome browser plugin may all be used to connect to its servers. To discover how to activate SOCKS5 support, go to their learning site.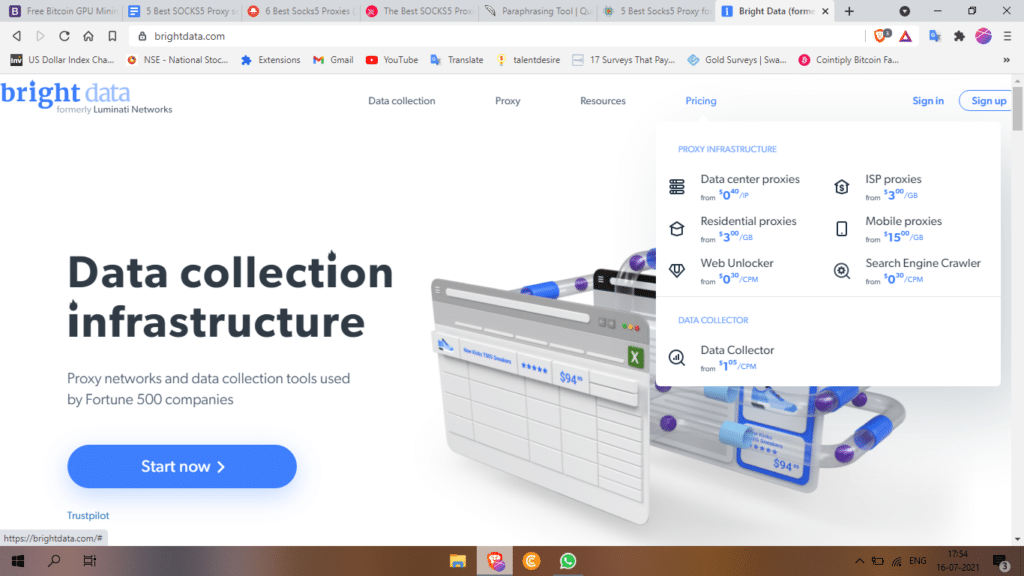 Key Features.
Server infrastructure that is massive
Professional assistance is accessible via a variety of avenues.
Proxies may be managed with ease with these tools.
A long-term testing period
Pricing is quite adjustable.
Pricing Plan.
To try out Luminati's services, you may sign up for a free trial account. After that, you may pick from a variety of paid tariff options based on data quantities and proxy type:
data center proxies — from $0.40 per IP
static residential proxies — from $3.00 per GB
rotating residential proxies — from $3.00 per GB
mobile residential proxies — from $15.00 per GB
Oxylabs
Oxylabs provides outstanding high-speed proxy servers that are meant to parse internet resources fast and in real-time. Oxylabs offers a variety of proxies for various applications, including data center servers, IP address rotation proxies, static residential proxies, and superior SOCKS5 proxies.
In data centers in several locations across the world, the business has over 2 million dedicated proxies. Oxylabs also offers a big pool of resident proxies, totaling more than 32 million, which allows for city-based targeting with accurate parsing results. Furthermore, proxy servers provide limitless bandwidth, concurrent connections, and targeting capabilities.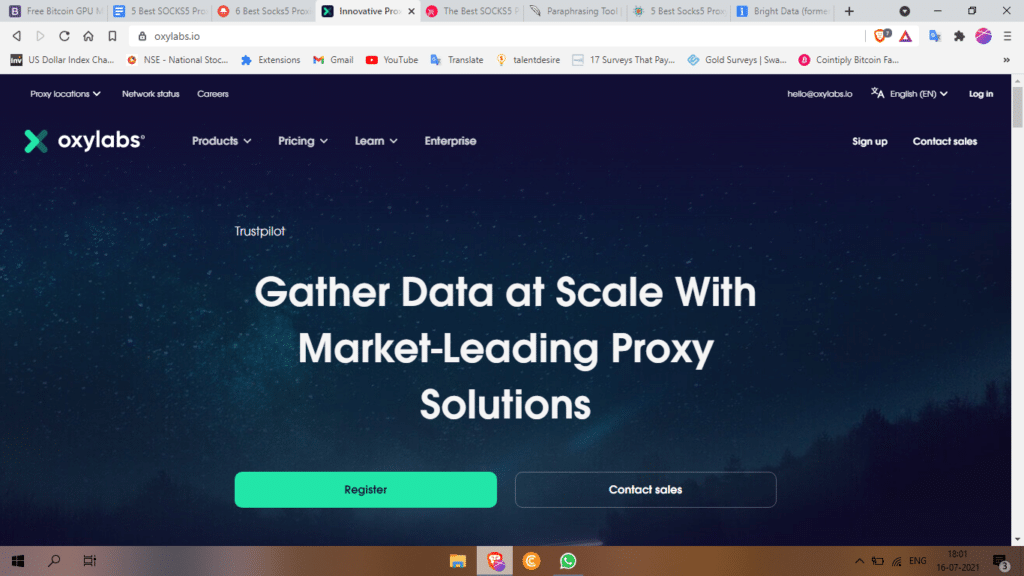 Key Features.
High-speed proxy servers
Data centers in more than 100 locations globally
Variety of proxy services for every sector
Reasonable pricing
Pricing Plan.
Oxylabs has a customizable pricing plan that is based on the location of the IP address, target sites, and other parameters. We have listed the pricing for every plan that is available to purchase.
Oxylabs offers mainly three types of proxies that are residential, data center, and next-gen residential proxies. For residential proxies, your billing would start with $5 per gigabyte you consume. For datacenter proxies, you will get per IP address priced at $1.20, and as for next-gen residential proxies, you would be charged $6 per gigabyte consumption.
Shifter
Residential and back connect SOCKS5 proxies are available from Shifter. They are available in every country, with the possibility of specifying cities. The IPs are unrestricted in terms of bandwidth, which is rare for residential proxies. Ports, on the other hand, ration them (IP addresses you can access at the same time).
Shifter's plans are on the higher end of the pricing range, which is one of the disadvantages. This is especially true if you want geo-targeting, for which you will have to pay twice as much for a premium package. Some websites, most notably Amazon, are automatically banned.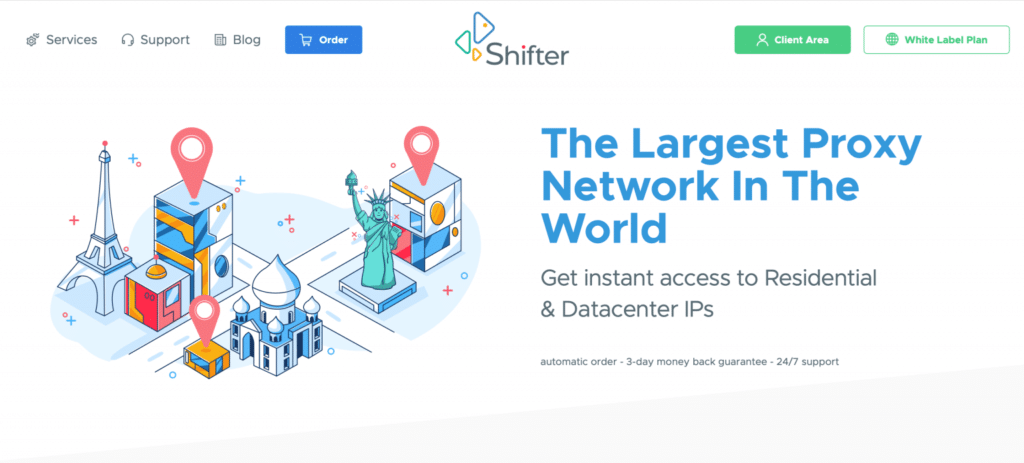 Key Features.
Available in many cities from all around the world.
Bandwidth limitless
Five-minute rotation
User: pass authentication with a whitelisted IP
Client service is available 24 hours a day, 7 days
There are 31 million home IP addresses.
Pricing Plan.
Pricing for Shiftert membership starts from $249.98 for 25 backconnect ports. You also get a 3-day money-back guarantee if you want to try it out for free before purchasing the subscription.
RSocks

RSocks offers a number of SOCKS5 proxy options. They cover all proxy kinds and span from one to hundreds of IPs. Proxy servers can be obtained from a certain geo-location, carrier, or job. If you want to, you can even rent proxies for an hour. Because RSocks isn't too strict about how you use its IPs, there are thematic plans for things like Twitch and mailing that are typically forbidden.
However, treating RSocks as a proxy provider is difficult. It acts as a middleman between a consumer and a proxy service. As a result, proxy performance may not always be consistent (as we've discovered). So that's one compromise you may have to make.
Key Features.
IP addresses for data centers, homes, and mobile phones
Locations might be global, continent-based, or country-based.
Bandwidth is limitless.
User:pass authentication, whitelisted IP
Customer assistance is available 24 hours a day, 7 days a week in three languages.
Pricing Plan.
Pricing varies a lot depending on the type of plan you want to purchase. RSocks offer residential, personal, mobile, shared, exclusive, shared, and free proxies. Head to their official website to get more clarity on the plans of RScoks.
Blazing SEO
In 14 countries, Blazing SEO sells SOCKS5 Proxy data server IPs. They contain unrestricted bandwidth speeds, threads, and subnets with the server IPs too. A significant advantage is that the provider owns and controls all of the gear. The prices are reasonable, and you can purchase as low as 5 IPs via the self-service feature.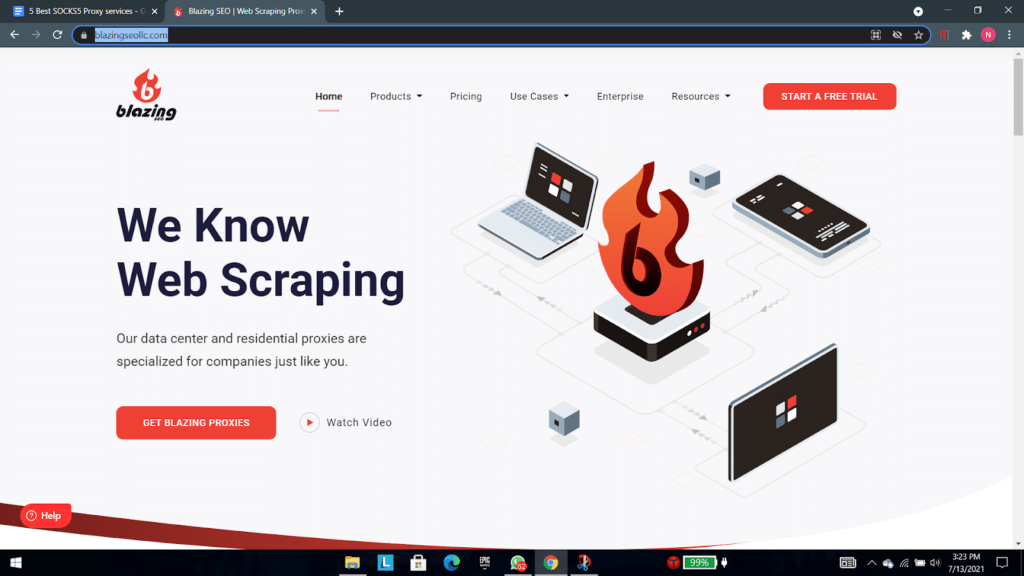 As Blazing SEO only has its servers in 14 countries, it may come as a limitation to you if you are located in a country where they don't have their servers developed. They understand what their consumers want and strive tirelessly to provide it. While their database and location number are nothing near those of the larger proxy businesses, we feel they will be one day.
Key Features.
IP addresses, both dedicated and shared
There's no limit to the amount of data you may send or receive, and you can
There are 14 different sites.
User: pass authentication, whitelisted IP
Customer assistance is available 24 hours a day, 7 days
Pricing Plan.
They have mainly four types of plans for offering those to their users. We have listed all the plans below for your better convenience ranging from basic to premium plans. They have plans included for every sector, be it personal, corporate, or even an enterprise plan for anyone's needs. Just have a quick look at the plans listed below for more clearance about it.
Starter Plans:
5 to 99 proxy IPs
Dedicated – $ 2.00 /IP
Rotating – $ 3.00 /IP
Semi-Dedicated – $ 0.80 /IP
Static Residential – $ 5.00 /IP
Personal Plans:
Save 5% on 100-999 proxies
Dedicated – $ 1.70 /IP
Rotating – $ 2.55 /IP
Semi-Dedicated – $ 0.68 /IP
Static Residential – $ 4.80 /IP
Corporate Plans:
Save 10% on 1k-4,999 proxies
Dedicated – $ 1.50 /IP
Rotating – $ 2.25 /IP
Semi-Dedicated – $ 0.60 /IP
Static Residential – $ 4.60 /IP
Enterprise Plans:
Save 20% or more on orders of >5k proxies
Get a Custom Plan for your business:
US Dedicated as low as $0.65/IP
International Dedicated as low as $0.80/IP
Semi-Dedicated as low as $0.34/IP
US Static Residential as low as $3.74/IP
What is the SOCKS5 proxy?
SOCKS is a virtualization technology that connects a server and a client via a proxy server. This offers you a high level of secrecy, permitting you to go about your daily tasks online without fear of being seen or getting your personal information compromised.
A SOCKS5 proxy, like other proxies, operates by obscuring your IP address from internet services. This permits you to operate as though you're in a different region and get around specific barriers and restrictions.
SOCKS5 is among the most up-to-date proxies for ensuring safety and anonymity on the internet. Anyone may get past IP restrictions when their IP is banned by an online service by adopting a SOCKS proxy. When a VPN's IP addresses are barred by an online service, it might be a handy workaround by providing an alternate means of accessing that service.
The SOCKS5 protocol is the most recent version of the SOCKS protocol. The bottom line is that accessing a proxy does not need authentication, and you do not need to enter any login credentials. SOCKS5's versatility makes it handy for email, online surfing, peer-to-peer file sharing, file transfers, VoIP, and other applications.
Difference between SOCKS5 and VPN.
VPNs and SOCKS5 are both proxy servers that may be used to hide your true IP address from internet services. Between the VPN client (application) and the proxy (VPN) server, a VPN establishes a safe encrypted tunnel. In combination with the location spoofing capabilities provided by a SOCKS5 proxy, this assures your online anonymity and data security.
The upside of using a VPN is that it enables you to hide your internet browsing history from almost everyone. The VPN's encryption prevents others from accessing your data or tracking your online activities. However, some individuals prefer to utilize a SOCKS5 proxy because VPN may cause minor internet speed slowdown.
If you only need IP spoofing and don't need internet privacy, a SOCKS5 proxy may suffice. However, if you want to use a VPN with additional encryption to access restricted torrent sites to download movies or partake in other online activities that you'd prefer to do in solitude, you'll need to use VPN.
The ability to analyze an almost enormous variety of request types is the most significant advantage of a SOCKS5 proxy. It may be used for VoIP, HTTP, HTTPS, POP3, SMTP, and FTP because of this.
Conclusion on Best SOCKS5 Proxy services 2022
A SOCKS5 proxy is a handy tool that many internet users seek, and it may be an incredible asset to your torrenting arsenal. A lot of prominent VPNs now offer a SOCKS5 proxy to their clients at no extra charge. Best of all, anyone using this SOCKS5 proxy can be rest assured that their connection is safeguarded.
It's worth mentioning that a SOCKS5 proxy does not include encryption, therefore you should always use a VPN if you want to maintain high levels of online anonymity and security.
However, if you are certain that a SOCKS5 proxy is what you want, then maybe this article may have been beneficial. Do let us know what are your raw thoughts about this particular topic in the comment section.
SOCKS5 Proxy services FAQs
1. Will I be able to perform Web Scraping using SOCKS Proxies?
Ans 1. Web scraping can benefit from SOCKS proxies. Scraping websites with them makes little fiscal sense, but they have other purposes. Scraping applications like Facebook is one example.SOCKS proxies may also do programmed activities such as verifying the authenticity of video streaming servers or torrents, which are characterized as web scraping.
2. Can I purchase Residential SOCKS Proxies?
Ans 2. Yes, you can buy Residential SOCKS Proxies and we may have listed some of the servers that provide the same in this article.

Shubham's reputation as a Proxy & Coupon Expert stems from years of hands-on experience and deep industry knowledge. His insights into proxies and online discounts are both authoritative and reliable, making him a trusted resource in these specialized fields. Committed to accuracy and efficiency, Shubham's work reflects not only his expertise but his dedication to providing value to his audience.